Although it is April 6th and I have been bombared with this unfortunate series of events called Mother Nature vs. Old Man Winter, I still have had my fair share of summer this Winter/Spring/Fall season.  For those from Michigan, you know what I am referring to.
I have been quite busy since my return from South Beach, Miami but I had to take some time out and share my escapades with everyone.  First of all, I'd like to thank the ladies of Fusicology for making this conference a much needed fix.  For those who have been to the WMC you know what I mean.  If you don't, please tune in below.
It has been quite a while since I've looked at things from a DJ's point of view.  For those who tune into my podcast, it may seem that most know me.  I'll start by saying that as of now (yes it usually changes quite often) I am indulging in the promotions side of the game…again.  However, being in Miami reminded me of how much I really FEEL music. 
I did not arrive until Thursday evening and still decided to rest because I knew that I'd hit the ground running for the rest of my time there….and I did.
Friday
BMP Magazine and Sapporo Beer hosted a two day V.I.P. gifting suite in South Beach and we were invited to partake in the goodies.  When we arrived to the mansion we had no idea how fly it was inside.  Each floor hosted one or two vendors and their product give aways.  DSL 55, Kangol, K-Swiss, Mavi Jeans are just a few.  I am sure we missed the first day's goodies but needless the say the view from the bedroom was amazing.  If I could wake up and see the ocean every morning, I'd smile a litte bit more than I already do.
 
After a few minutes I started to awake from my gazing dazing and realized that Giles Peterson was in the room and unfortunately he lost his luggage in his travels.  He was preoccupied with getting fly kicks from K-Swiss.  Soon thereafter, Louie Vega and his wife Anane and child, Jazzy Jeff, Terry Hunter and Kenny Dope came by the suite while we were rounding out our vist.
Big ups to the K-Swiss reps… don't forget about us ladies next time!
We then headed over to the Marlin hotel to peep the Jump N Funk party with DJs Rich Medina and Ron Trent.  Ok let me make this very clear because this is about a serious and I can be…. let's take NYC's Jump N Funk and add Chicago's Africa Hi-Fi and multiply Afrobeats, Deep and Sexy House with a full dancefloor and the square root of extreme liberation through dance and you still cannot even come close to describing Jump N Funk.
I was a little overwhelmed with the heat but amazed with the fact that I was watching a walking mix cd/podcast.  This party was blessed with W.L. Ellington, Russell Taylor, Jaguar Wright, King Britt, Malena Perez, Vikter Duplaix and I am sure there was much more and they were there for the vibe not to perform.  I have to say this was one of the best moments in Miami.
Afterwards we headed to the Stones Throw party at the Raliegh hotel.  Oh did I mention Fusicology sponsored 12 parties in 5 days??!?!  Anyhow, off to Hella International hosted by Stones Throw and this was an outdoor joint.  If you've ever wondered what the ocean was like by a pool, this party had it.  It did get kind of cold but I loved the line up and real Hip Hop keeps me warm inside anyway.   Stones Throw did a lovely job with bringing on Madlib, Peanut Butter Wolf, J.Rocc, A-Trak, Busy P & Dj Mehdi, Benji B, Karriem Riggins, Egon + Haycock & Strong.  For all of you Dilla fans who are from Detroit, I have to give LA a very close 2nd in how they loved Dilla.  I'd have to say that I felt like I was almost back in the D for a few moments.
I had to eat! So we added about six others to the crew and headed over to the Victor hotel for the Art of Seduction party hosted by King Britt & Vikter Duplaix…but only after FOOD!  We headed up to the rooftoop for the show and I was pleasantly suprised with the flow of the party.  King Britt  and Vikter Duplaix would do a 15 minute set each and then Clara Hill or Malena Perez would rotate and perform a song between each set.  I hope that made sense.  Anyhow, the crowed loved it.  We stuck around for an hour or so and off to our last party for the night… Co-Op.
It's crazy! As soon as we walked through the door at Jazid I cannot explain how and why I placed my pocketbook down and commenced to dancing for an hour non-stop.  My poor feet, legs, hips and eyelashes. Yeah I said it, it all hurt the next morning! LOL  We had the pleaure of hearing the sounds of IG Culture, Afronaught and Daz-I-Kue which pretty much kept us dancing and vibing until 4:30 a.m. 
Saturday
I have a favorite set of DJs who produce and usually I make sure their tracks get heavy rotation in my podcasts and they were all in the line up for the Bembe party.  The line up included Rich Medina, Carlos Mena, DJ Spinna, Osunlade and Karizma.  I refuse to try to describe set outside of the fact that this was an indoor/outdoor bbq and it rained most of the time.  I actually got the chance to see Malena Perez and Osunlade hug for the first time.  It seems they never shared the same space until Bembe and she recorded "Praise The Day" produced by Osunlade on her "Stars" release in 2006.  ….another WMC dope moment.  Regardless of the horrible weather, people still packed the spot and enjoyed the vibes.  Again, this was one of those "you had to be there" moments.
The rain kind of ruined my outdoor party moves on Saturday until the evening and we were back at the Raliegh hotel for the Rocketscience party hosted by Wa-Jeed and Ge-ology. Ok either I was a little tired or something but Bushwick Bill rolled up on stage with us at the spot.  BANANAS!  Even though the rain damped this turn out, the funk records flowed.  I did not get the chance to downtown to the Aquabooty party but I hear it was a blast. I did not feel like spending a ton of money on a cab so I missed Osunlade LIVE… I was a little tired from all the ripping and running.
We headed to the Raw Fusion party over at Jazid.  (You see the pattern of where the hot parties where?! lol)  Freddie Cruger aka Red Astaire, Markus Enochson, Simbad, Lil' Tony, label head Mad Mats, US label rep DJ Scribe, Amon on percussion joined by Baltimore's own Karizma and Daz-I-Kue from Bugz in the Attic were in the spot.  That night was a blur but I did appreciate the back rub from Vikter. A sista was worn out. 
Sunday
….sleep in
….beach time
Rich Medina & King Britt's farewell Philly party at the Marlin. It was packed!  I got the chance to bid my good-bye's and to everyone I ran into over the weekend because it seemed as if they were all there.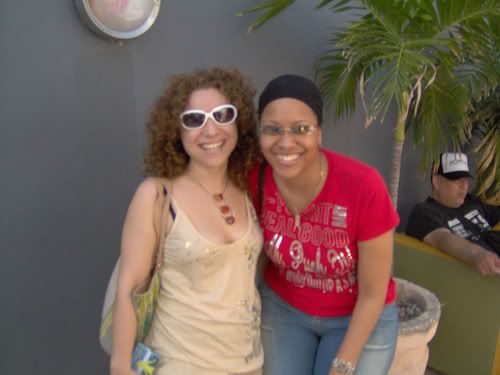 If you've never been to the Winter Music Conference and you are a music lover, this is a trip you'd want to experience at least once.  My intentions were to get a few guests for my show and it did not end up that way because of the madness but other ventures were started and established. 
Again I'd like to give a huge shout to EVERYONE and I know it's vague but that weekend was a serious blur because we moved from spot to spot meeting and greeting.  For the up-to-date Fusicology blog, peep our Honeymag.com posting.